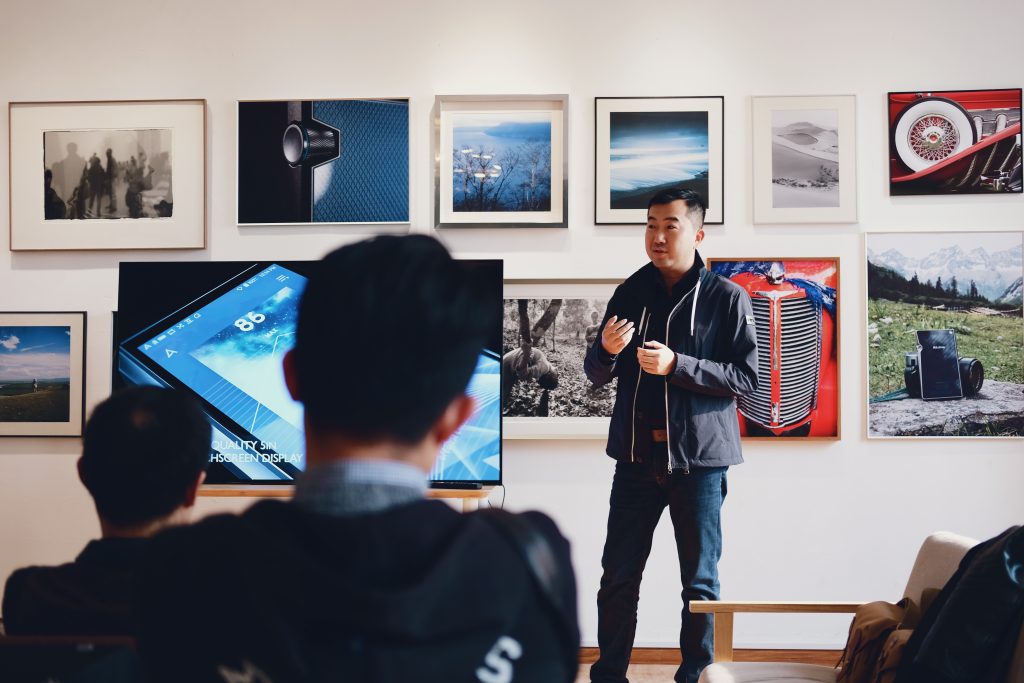 If you read this now and sometimes ask yourself "how I can become a better teacher and engage my class?", it means you are already above average teacher. It also means, that you know how influential are oratory skills. To teach students effectively and "sell" your ideas just facts, numbers and diagrams are not enough. The tone of voice, gestures, pauses, quotes, questions metaphors and more – this is what makes your lectured subject interesting and you liked as a teacher.
With this training program you will learn best techniques to draw attention, engage, entertain, influence and become better teacher. You will play with gestures, mimics, tones of voice and enjoy being in front of the audience.
This training course is on experiential, formal and non-formal education methodologies. It includes visual presentations, group and individual work, discussions, role-playing, reflection sessions and practicing acquired knowledge. This program is extremely rich with methods and principles and this is useful for participants who want to develop and use material their work and activities.
This training course is a result of experience gained through accomplishment and facilitation of numerous workshops and events in the alike and diverse groups. Thus, this program contains material selected exceptionally for this training course in order even for starting trainers to grasp the real atmosphere of the future workshops and to have a space to practice in safe environment with the best trainers whereas more experienced facilitators will have chance train mentorship skills and get deeper understanding of the dynamics in the groups and how to manage various situations. All participants will be awarded with the certificate of successful course accomplishment and will gain access to the private mentorship program for further personal development.
Participants will be awarded with the certificate and attachment proving their participation, gained competences, program modules, length and accreditation.
If partners involved, participants will receive additional certificates accordingly.
Length of the course: 1 week, Monday – Saturday;
 Rijeka / Alghero / Zaragoza / London
Set Dates 2019:  7 – 12 January; 21 – 26 January; 4 – 9 February; 18 – 23 February; 4 – 9 March; 18 – 23 March; 1 – 6 April; 15 – 20 April; 6 – 11 May; 18 – 23 May; 3 – 8 June; 15 – 20 June; 1 – 6 July; 20 – 25 July; 5 – 10 August; 19 – 24 August; 2 – 7 September; 16 – 21 September; 7 – 12 October; 21 – 26 October; 4 – 9 November; 18 – 23 November; 2 – 7 December; 
Sofia / Budapest / Tirana / Dublin / Kaunas
Dates 2019: 7 – 12 January; 4 – 9 February; 4 – 9 March; 1 – 6 April; 6 – 11 May; 3 – 8 June; 1 – 6 July; 5 – 10 August; 2 – 7 September; 7 – 12 October; 4 – 9 November; 2 – 7 December;